Update
We are grateful to all the Disabled Dance Artists who expressed their interest to join us for the 2023 Dancing Disability Lab (July 17-24, 2023).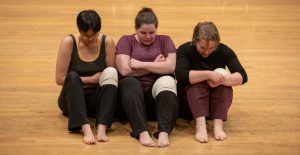 Application Questions
Are late applications being accepted?
No, the deadline to submit Interest Forms closed on February 15, 2023.
Can I apply for the 2024 Dancing Disability Lab?
No. At this point, we anticipate that the 2023 Dancing Disability Lab will be the final residency.
If I don't identify as having a disability or being physically different, can I apply for Dancing Disability?
Dancing Disability is intended for those who identify as having a disability or physical difference.
I am a dance artist with an invisible disability. Can I apply?
Yes! Any dance artist who identifies as having a disability is welcome to apply.
I'm a dance artist from outside of the U.S., can I apply?
Yes! If you are accepted, your travel expenses and lodging will be covered.
Participant Questions
Open Studio Questions
Will the Dancing Disability Open Studio be accessible?
The public sharing of Dancing Disability will have ASL interpretation, audio description, and captioning. The public showing will be fragrance-free. Please refrain from wearing scented products such as perfumes/cologne, hair products, and scented lotions.
Please also be aware that UCLA is a smoke and tobacco free campus. Other access requests can be considered. Attendees are encouraged to make their needs known as soon as possible by contacting Dancing Disability. Glorya Kaufman Hall is ADA accessible. A map displaying accessible pathways, building entrances, and parking structures is available here: https://maps.ucla.edu/downloads/pdf/Access_08_21_15.pdf
Important Note: All guests will need to comply with current campus COVID-19 protocols.  More information will be provided closer to the date of the event.
This webpage will be updated throughout the next few months. If you have any questions not on this list, please email Dancing Disability.