The program offers wheelchair basketball, adaptive tennis, martial arts and other sports, with hopes to expand.
View the original post on UCLA Newsroom.
---
Jamey Perry pivots into position to prevent her opponent from getting a clean shot at the basket, then maneuvers her upper body to grab the ball from him. As the two lock into a tug-of-war, the left wheels of Perry's basketball wheelchair begin to lift off the ground. A split second later, both she and the chair, into which she's firmly strapped, topple over.
She has the ball.
The other players cheer and laugh. Acting as a single team, they all glide over to help Perry up.
Making sport accessible | UCLA Adaptive Recreation
It's another Tuesday evening wheelchair basketball practice for UCLA Adaptive Recreation, an athletics program for Bruins and community members with and without disabilities.
"Our main goal is to expand access to opportunities that promote physical fitness, health and wellness, increased self-esteem, and greater functional independence," said Michael Garafola, the program's coordinator. "We also work at educating the campus community on the lifestyles of individuals with disabilities in relation to sports and recreation."
At a time when conversations about equity are expanding beyond race, ethnicity and sexual orientation, Garafola feels every university should be doing more to make its students, staff and faculty with disabilities feel more included in all aspects of campus life.
"There is still so much responsibility on individuals with disabilities to self-advocate," he said, noting that people may be navigating physical spaces that aren't always accessible and systems that don't take into consideration the diversity within the disability culture.
A program with the power to transform
The Adaptive Recreation program, which has anywhere from 25 to 100 participants each year, offers a variety of sports and provides adaptive equipment like handcycles and specialized wheelchairs for basketball and tennis. Additional offerings have included adaptive kayaking, martial arts, yoga and even adaptive cooking with the campus teaching kitchen. For many, the program gives them their first opportunity to participate in athletic activities.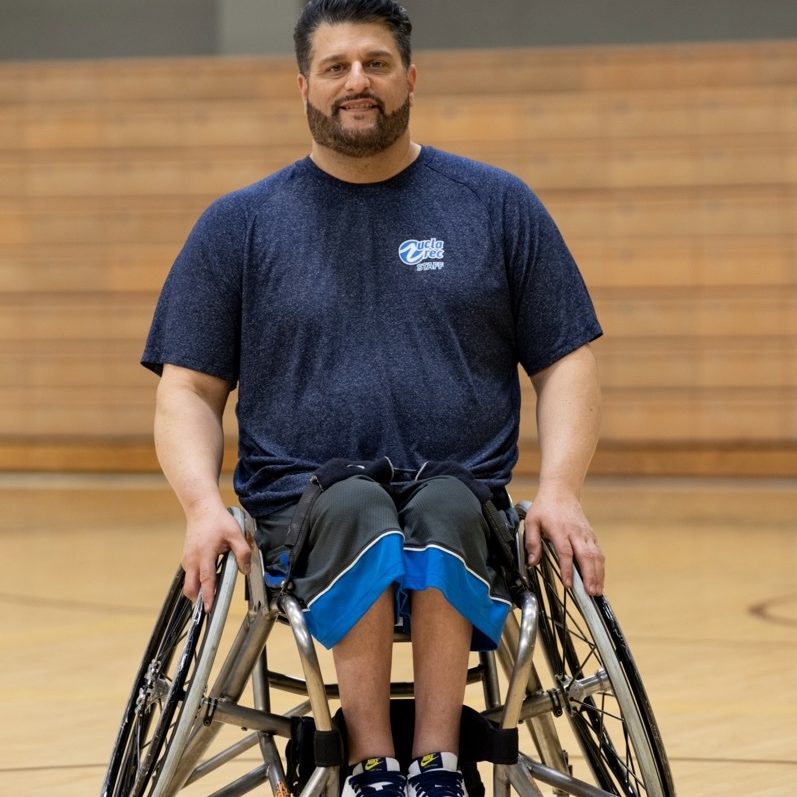 "When I played in a sports wheelchair for the first time, it was like a rebirth for me," said Garafola, who at 15 was involved in a near-fatal car accident that left him a T-8 paraplegic. His spinal cord injury affected vertebrae and corresponding root nerves from his mid-back down.
It would take another 13 years for him to discover adaptive sports and reignite the "competitive fire" he had felt as a young athlete before his injury. "This issue of not knowing these sports exist for people with physical disabilities, or not having access to them, is a story I hear over and over again."
Since discovering adaptive sports, Garafola has been driven to make sure that others have a chance at a similar rebirth. That chance requires support. The sports chairs the program provides — which have safety straps, angled wheels for balance, and protection for the lower body but no brakes — can cost up to $6,000.
"Learning chair skills is important, but understanding your body and learning how to maximize your ability despite your disability is even more so," said Garafola, who has been in his position at UCLA for 10 years.
Able-bodied participants use the chairs as well, an experience that has helped many of them develop a new awareness of and perspective on disabilities, he said. Garafola shared the story of an able-bodied student in the program who switched his academic focus from engineering to pre-health after learning about different kinds of disabilities through the wheelchair basketball program.
As great as the program has been for its participants, Garafola wishes more people knew about it. If they were able to offer a wider variety of sports, he said, then more students would participate.
"Having a department like UCLA Recreation that understands adaptive sports and supports it — that's 90% of the battle," said Garafola. "It's been incredible, but we still have a lot more work to do."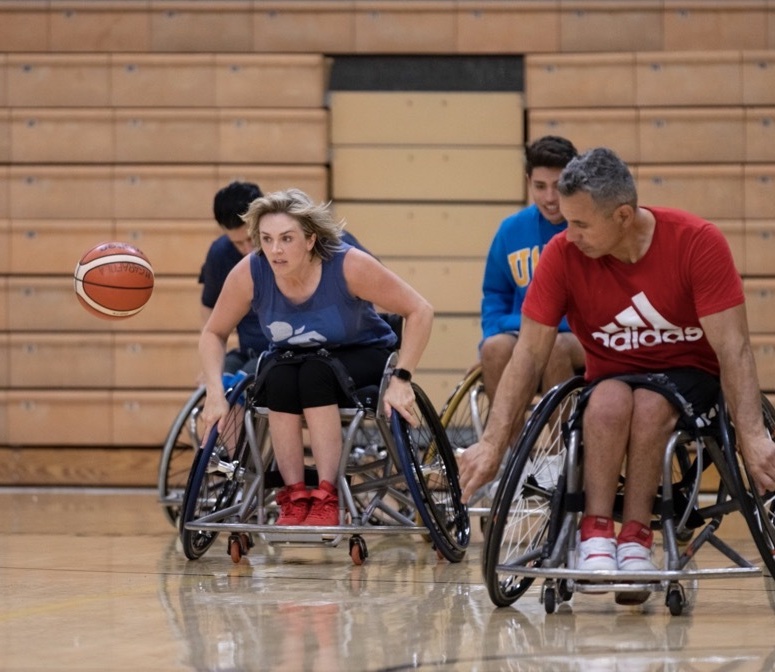 A common story among people in the program is that they weren't aware of adaptive sports or didn't have access to them when they most needed it. One is Claudia Huey, who discovered wheelchair basketball her freshman year at UCLA after being the only student in her high school with a physical disability.
"I realized that it was not that I didn't like sports growing up, it was that sports were inaccessible," said Huey, who is an administrative analyst at the Jane and Terry Semel Institute for Neuroscience and Human Behavior at UCLA.
Elaine Touch-Malave, who met her husband, Alvin Malave, 10 years ago playing wheelchair basketball, says Alvin was one of the lucky ones to discover adaptive recreation shortly after a spinal cord injury. Elaine, who was born with cerebral palsy, didn't learn about adaptive sports until after graduating college.
"I can't even imagine my wife growing up not being exposed to other people like her," said Alvin Malave, a longtime volunteer with Adaptive Recreation. Malave also coaches one of the first women's wheelchair basketball teams in Los Angeles through Angel City Sports, an adaptive sports nonprofit Garafola co-founded. Similar to Garafola, Malave was a dedicated athlete before his accident but said he didn't find community — like he has now — when he was able-bodied.
"We fell out of our chairs all the time," said Malave, recalling some of the challenges of just starting out. "The first time I fell out, I was like, 'How are we going to do this?' But these guys were like, 'Pop back up. All good, man.'"
'If we build it, they will come'
Wheelchair basketball has been a lifeline for many, and Garafola is hopeful that the NCAA will embrace adaptive sports, paving the way for UCLA to start competing against other colleges. While the current sports offered are all recreational, Garafola said competitive intercollegiate sports would signal to prospective students with disabilities that UCLA is a prime destination for an adaptive athlete. He understands that schools must be practical in terms of allocating resources to where there is the most demand, but his theory is "If we build it, they will come."
Many in the program share that hope, Garafola says. He's seen the thirst for it among current Bruins and even prospective students, including a high school junior who recently came to tour campus and get a taste of the adaptive tennis program.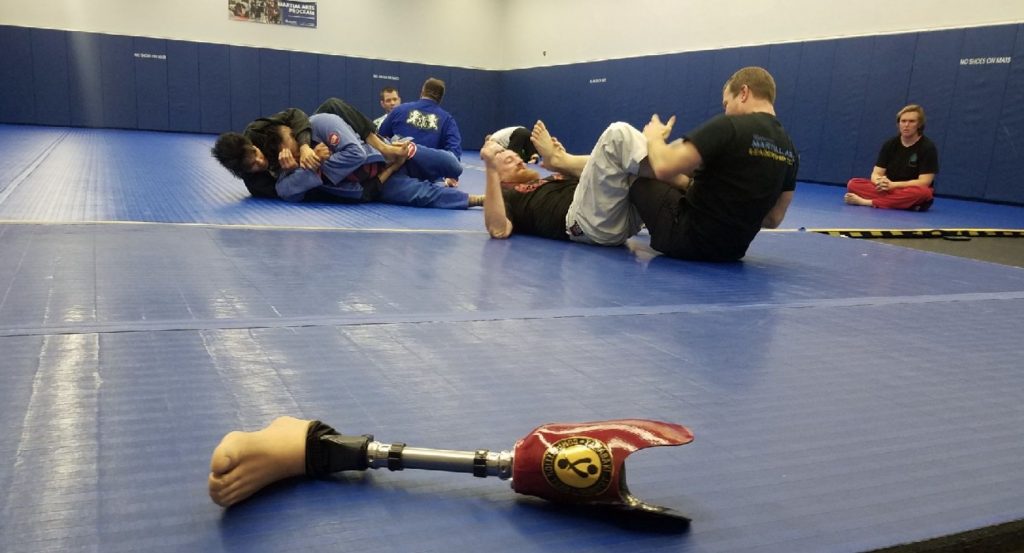 Paul McCarthy, coordinator for the UCLA Martial Arts Program, teaches a quarterly applied martial arts class that provides individualized training to those of all abilities, focusing on movement training based in martial arts. McCarthy, who is able-bodied, has also worked closely with Garafola to coordinate one-time offerings like wheelchair self-defense and a para-jiujitsu master class.
McCarthy said he also views competitive sports as a means of boosting confidence for participants of any ability and giving players the experience of feeling admired when they win a game.
"People with disabilities need to feel welcomed, celebrated and cherished – not just accommodated," said McCarthy, who has trained a visually impaired individual to practice self-defense by echolocating, or using sound cues, and has worked with a person with cerebral palsy to fall safely, regaining more use of their body. "We should be planning and preparing for individuals with disabilities in all programs."
Both McCarthy and Garafola are optimistic that new California legislation providing in-state college tuition rates, regardless of residence, to Olympic and Paralympic hopefuls training in California for the 2028 Games in Los Angeles is a step in the right direction. Next, it falls on the NCAA to call for adaptive sports, Garafola said.
"It's important to have that element for people who want to come to UCLA to compete at a high level," he said. "That's my goal, and we have that opportunity here at this university."
The Adaptive Recreation wheelchair basketball program runs concurrent with UCLA's academic calendar and meets Tuesdays from 4 to 7:30 p.m. at the John Wooden Center. Applied martial arts is offered Fridays from 2–3 p.m. at the Wooden Center.