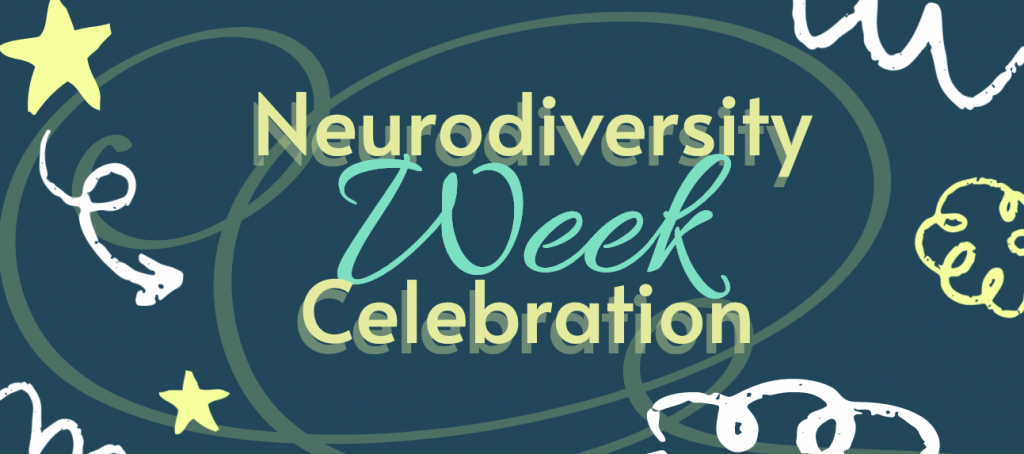 Emerging Ideas
Neurodiversity Celebration Week
Welcome to Neurodiversity Celebration Week, taking place April 10th to 14th, 2023, and hosted by the Center for Accessible Education. We're excited to be partnering with different departments and student organizations to celebrate the contributions of Neurodivergent Bruins to campus. During this week, we encourage you to learn how neurodiversity is a critical part of the fabric of campus and reflect on how you can embrace and honor the different ways Bruins learn and engage on campus.
We welcome you to a variety of events taking place on campus during the week and to utilize the resources to launch your own inclusion efforts of Neurodivergent Bruins!
Tuesday, April 11th, 2023 from 11am to 2pm | Neurodiversity Celebration Week Kickoff
Location: Bruin Plaza
Join us for the kickoff to Neurodiversity Celebration Week on Bruin Plaza. CAE and various offices and student organizations support neurodivergent students will be tabling with information on how to get connected and what resources exist for neurodivergent students. Plus, join us for a mini sensory experience with stimming toys and sensory activities.
Wednesday, April 12th, 2023 | Rise & Shine with CAE
Location: Center for Accessible Education
Join your fellow disabled and neurodivergent students and drop by the Center for Accessible Education during Neurodiversity Celebration Week to grab some coffee/tea and donuts to start your morning off right!
Location: Online via Zoom
What is the best way to self-advocate for accommodations in the workplace, and how do you account for your disability when selecting an internship or employer? Join us to learn when and how to discuss disabilities in the interview and on the job from alumni. During the workshop, participants will receive several career development resources that are inclusive of disabilities to strengthen their job search. A partnership with the UCLA Disability Alumni Network, Career Center, and CAE.
Thursday, April 13th, 2023 from 11am to 3pm | Neurodiversity at UCLA: A Workshop on Inclusion & Belonging
Location: Online via Zoom 
Neurodivergent Bruins are a vital part of the diversity that makes UCLA a vibrant place to study and work! Join CAE as we explore the topics of Neurodiversity and inclusion and belonging of Neurodivergent students at UCLA. Learn strategies for elevating your work to be inclusive of neurodivergence and add tools to your toolbox in supporting Neurodivergent student success.
Wednesday, April 12th, 2023 from 11am to 3pm; Thursday, April 13th from 11am to 3pm; and Friday, April 14th from 8am to 10am | Sensory Pop-Up Experience
Location: SAC Conference Room 2
Sensory optimized or inclusive spaces can often support Neurodivergent students, faculty, and staff that often get have challenges around loud, busy spaces with fluorescent lighting. At CAE's Sensory Pop-Up Experience, you can explore sensations through lights, colors and touch to calm senses and optimize individual sensory stimulation. This inclusive and safe space will include sensory play resources, sounds, aromas, and other sensory inclusion experiences.
We encourage all students, faculty and staff seeking out a sensory inclusive space to join us in supporting mind-body balance, reducing stress and anxiety, building confidence and improving learning. This event is sponsored by CAE, with inspiration from UC Riverside's Student Disability Resource Center.
What is Neurodiversity?
Neurodiversity defines human diversity as including individual brain differences and, as a concept, emphasizes there is no standard way (or "norm") of thinking, learning, processing information, or behaving. As an overarching concept, it often defined to include neurological differences such as ADHD, learning disabilities, and Autism Spectrum Disorder, but includes the innumerable varieties of human brain function and behavior.
Most importantly, Neurodiversity is an antideficit framework positing that there are positive outcomes for both neurodivergent and neurotypical individuals when we make room for neurodivergent individuals to engage with others in a way that is most familiar and comfortable to them. Furthermore, it encourages neurotypical individuals to examine the barriers they create and assumption they make that challenge neurodivergent functioning and systematically exclude neurodivergent individuals.
Resources For Further Learning