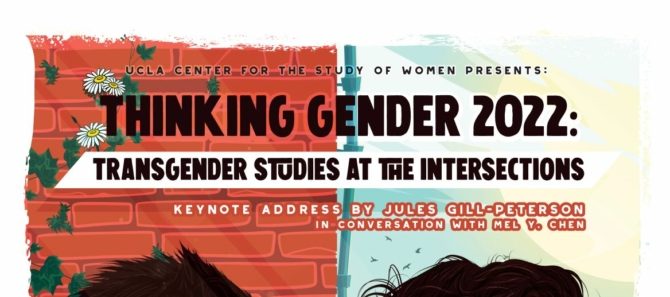 Emerging Ideas
Thinking Gender 2022: Transgender Studies at the Intersections
Thinking Gender 2022
32nd Annual Graduate Student Research Conference
"Transgender Studies at the Intersections"
Free, Public Keynote Address
Thinking Gender 2022 will focus on work in transgender studies that engages substantively with race, Indigeneity, Blackness, settler colonialism, and/or empire.
Join the UCLA Center for the Study of Women on Wednesday, April 6, 2022 for a special Thinking Gender 2022 webinar featuring a keynote address by Jules Gill-Peterson and a conversation with Mel Y. Chen.
View the CSW website for more information about the speakers, accommodations, and to register.
This event is co-sponsored by:
Disability Studies
African American Studies Department
American Indian Studies Center
American Indian Studies Program
Anthropology Department
Asian American Studies Department
Asian American Studies Center
Bixby Center on Population and Reproductive Health
Center for Health Policy Research
Center for the Study of Racism, Social Justice, & Health
Center X
Chicana/o and Central American Studies Department
Chicano Studies Research Center
Community Health Sciences Department
Comparative Literature Department
English Department
Penney Kanner Endowed Chair in Women's Studies
Graduate Division
History Department
Information Studies Department
Institute for Research on Labor & Employment
Institute of American Cultures
Institute on Inequality and Democracy at UCLA Luskin
International Institute
LGBTQ Campus Resource Center
Promise Institute
Justice, Equity, Diversity and Inclusion, David Geffen School of Medicine
Social Welfare Department
Sociology Department
Williams Institute at UCLA Law
Apr 06, 2022
Online event
12:00 - 1:30 PM
Register
This event date has passed so registration is now closed
Apr 06, 2022
Online event
12:00 - 1:30 PM
Register
This event date has passed so registration is now closed