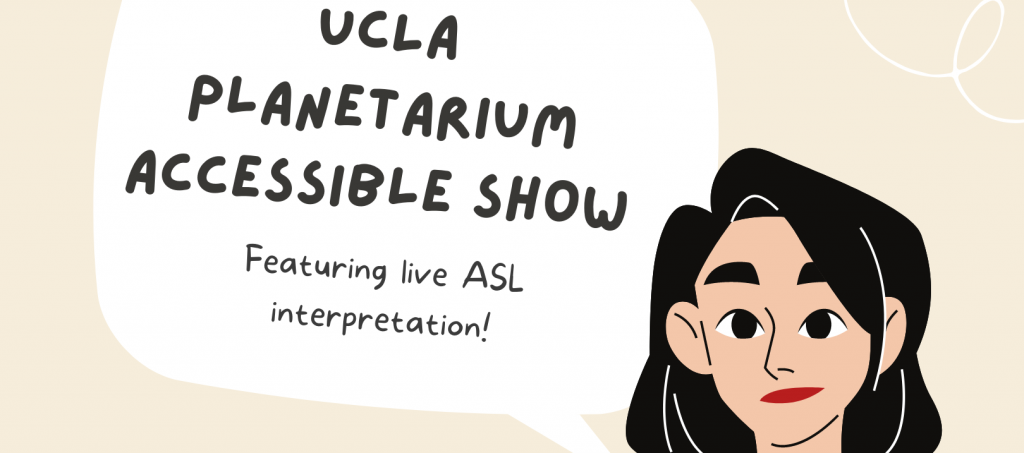 Emerging Ideas
UCLA Planetarium Accessible Show: How to Take Photos of Exoplanets (with Live ASL Interpretation)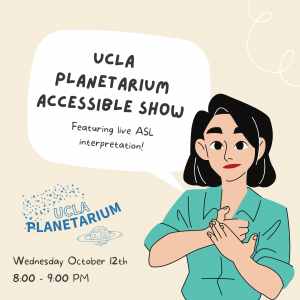 Scientists have discovered over 5,000 planets around other stars in the past few decades. But what do they actually LOOK like? Can we take photos of them? In this show, we'll explore those questions!
Note: This show will have an ASL (American Sign Language) interpreter to make the show accessible to d/Deaf and Hard of Hearing attendees.
The UCLA Planetarium is working on hosting shows that are accessible to a wider range of audiences. Although we will always do our best to provide accommodations upon request, we know that having to request accommodations can be a significant barrier for access — so, we hope to have at least one show per quarter that features accessibility improvements, no requests needed! Shows are free to attend for ALL members of the local community (not just UCLA affiliates!), and no advance reservations are required; however, we recommend you arrive 15-30 minutes early to ensure you get a seat since shows have been filling up lately, and to the best of our ability we WILL be prioritizing entrance for d/Deaf attendees for this show. Eventbrite tickets guarantee entry, but there will also be walk-in room available. Certain seats will be reserved to prioritize those in need of the accommodations offered at this show, whether or not they have a reserved ticket. UCLA ID, proof of vaccination, or negative COVID test within 48 hours are required for all attendees, and everyone must wear a mask for the duration of the show for the safety of our presenters and guests.
View the Planetarium website for more information and details on COVID precautions.
Facebook Event: https://fb.me/e/3vmoS6hS0
Oct 12, 2022
UCLA Planetarium
8-9pm
Register
This event date has passed so registration is now closed
Oct 12, 2022
UCLA Planetarium
8-9pm
Register
This event date has passed so registration is now closed