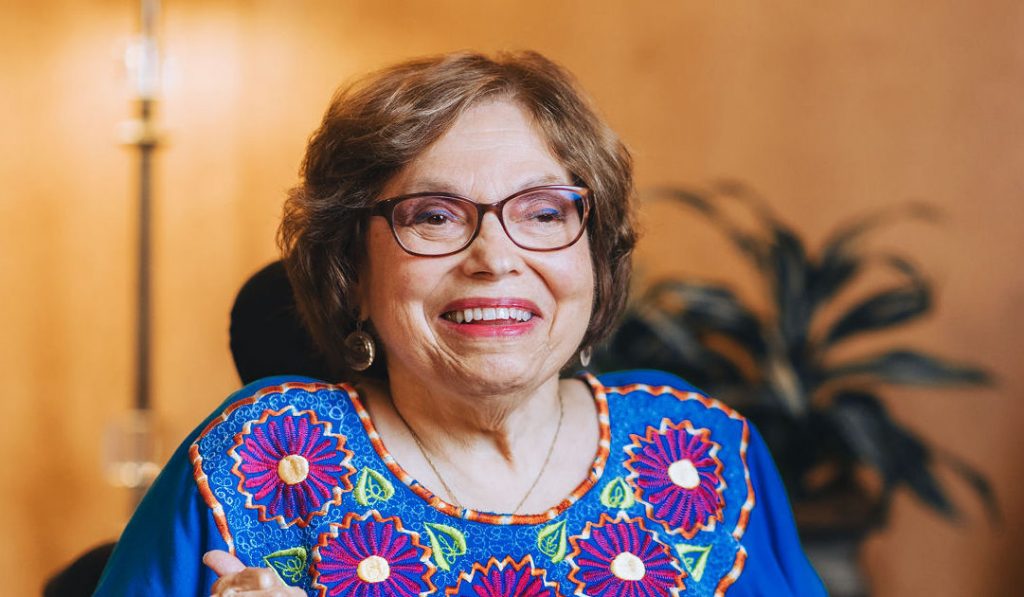 Dear Friends and Colleagues,
It is with a heavy heart that we mourn the passing of Judy Heumann, a trailblazing disability rights activist, and a beloved member of our community. Her indomitable spirit and her unwavering commitment to social justice have left an indelible mark on the world.
Judy's work as a leader for disability rights set the groundwork for all we have done and will continue to do at UCLA: the growth and expansion of our interdisciplinary disability studies program, the development of our ever-evolving and growing Disability Studies Inclusion Labs, and the robust access-centered thinking and doing occurring across all spaces, physical and digital. In February of 2022, UCLA was fortunate to have Judy join us for a week-long series of events related to healthcare, ableism, student advocacy, disability studies, and more as the School of Nursing UC Regents' Lecturer. The wisdom and guidance she imparted will not be forgotten.
Judy was a fierce advocate for disability rights, fighting tirelessly to ensure that people with disabilities were included in all aspects of society. She was a pioneer in the independent living movement, which sought to empower people with disabilities to live independently and with dignity. She co-founded the Berkeley Center for Independent Living in 1972, which became a model for disability rights organizations around the world. She was a key figure in the landmark 504 Sit-In, a 26-day protest in San Francisco that resulted in the first federal regulations prohibiting discrimination against people with disabilities. Judy also played a key role in the passage of the Americans with Disabilities Act (ADA), which prohibits discrimination against people with disabilities in employment, transportation, public accommodations, and other areas. Her leadership and activism helped to make the ADA a reality, transforming the lives of millions of people with disabilities.
Judy's lifelong dedication to disability rights and social justice was no easy feat, but her tireless advocacy work paved the way for a more inclusive and accessible society. Her legacy will continue to inspire our work here at UCLA and future generations of disability rights activists.
As we remember Judy, let us honor her memory by striving to create a more equitable, accessible, and just world, remembering her invaluable contributions, and continuing to fight for the rights and justice of people with disabilities. She will be deeply missed, but her impact will live on for generations to come.
Judy, we thank you for your service to humanity. Your legacy will live on in all of us who continue in the pursuit of access, equity, inclusion, and justice. Rest in peace. Rest in power. Rest in love.
In Community,
Victoria Marks
Chair, Disability Studies Minor
Professor, Department of World and Cultures/Dance
Lauren Clark
Shapiro Family Endowed Chair in Developmental Disability Studies
Professor, School of Nursing