UCLA Hollywood Diversity Report shows diverse casts continue to draw larger, more diverse audiences
Key Takeaways
After trending upward for the past three years, racial, ethnic and gender diversity among movie actors, directors and writers for theatrical releases slid back to 2019 levels, according to the new Hollywood Diversity Report.
The new report is the first to analyze releases in theaters separately from those on streaming services; it found that women and people of color were better represented on films made for streaming.
The report found that movies with women or people of color as directors tend to have more diverse casts than those directed by white men.
For the first time, the report examined data for actors with disabilities and found they are poorly represented in both theatrical and streaming releases.
Even as "Everything Everywhere All at Once" earned seven Academy Awards — including an acting Oscar for its lead, Michelle Yeoh — women and people of color continue to be underrepresented in most job categories in the film industry, according to the latest UCLA Hollywood Diversity Report.
The representation of women and people of color in the film industry had improved for each of the past three years. But in 2022, diversity in several key roles generally returned to 2019 levels. The about-face comes even as the UCLA research reaffirms a finding revealed throughout the Hollywood Diversity Report's decade-long history: that diverse movies are more successful at the box office, attracting more diverse — and larger — audiences.
"Our research shows that diversity in the movies is just good business," said Ana-Christina Ramón, director of UCLA's Entertainment and Media Research Initiative, which produces the report.
In general, films released on streaming services were more diverse than those in theaters: 64% of streamers had casts that were at least 30% minority actors, while just 57% of theatrical films had casts with that percentage of minority actors.
Indeed, the report notes that the apparent improvements in top films' diversity over the past few years are partly attributable to the fact that the UCLA research counted streaming and theatrical films together during the COVID-19 pandemic, when many major releases took place on streaming services. The new study is the first Hollywood Diversity Report to present employment data separately for movies produced for the big screen and those destined for streaming.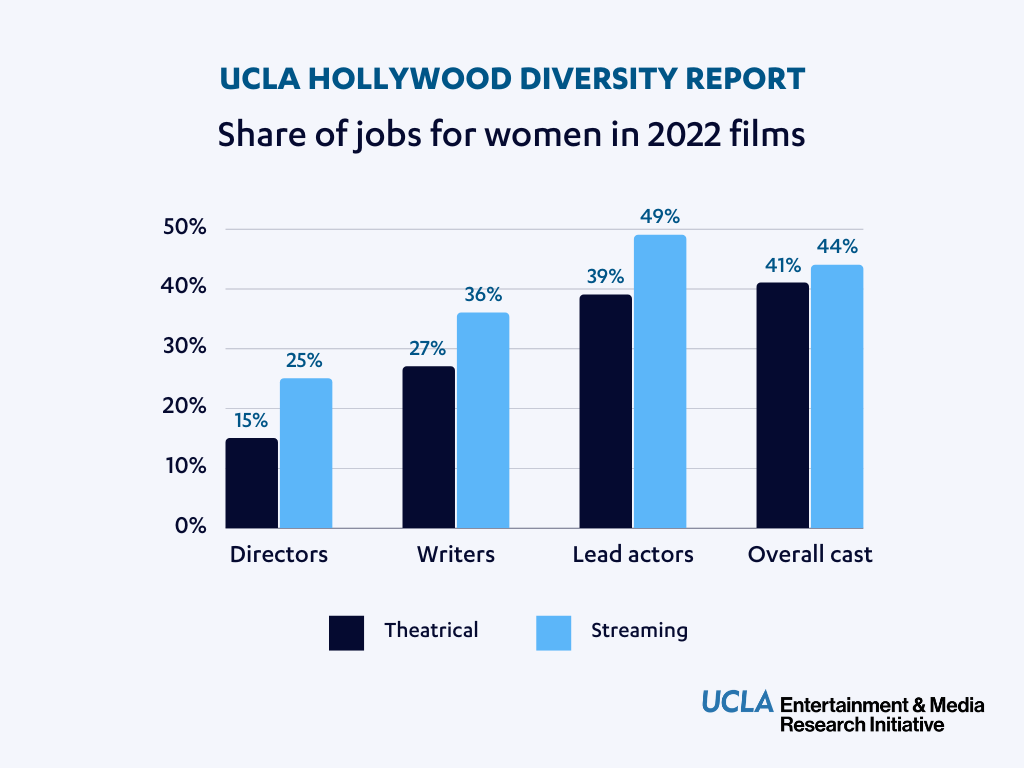 The 2023 report comes as the industry grapples with the post-pandemic challenge of re-engaging audiences.
"People of color saved the theatrical industry during the pandemic, and they are key to bringing the theatrical business back to its pre-pandemic levels," Ramón said.
As evidence: Six of the top 10 films released in the theater had audiences that were at least 50% minority moviegoers, and the success of all of the top 10 streaming films were fueled by an overrepresentation of audiences of color.
In theatrical movies, people of color composed only 22% of lead actors, 17% of directors and 12% of writers. Women made up just 39% of lead actors and 15% of directors.
"Hollywood has to look itself in the mirror and identify the concrete practices that actually work to move the needle on the industry's diversity problem," said Darnell Hunt, UCLA's executive vice chancellor and provost, and co-founder of the report.
Women gained ground as writers (27% of movie writing positions, up from 17% in 2019) and in acting roles overall (41%, from 40% in 2019). For streaming originals, however, women had a nearly equal share of lead acting roles (49%). And streaming films were more likely to have casts that more closely reflected the diversity of the U.S. population overall, the report found.
"Diversity should not be considered a luxury but a necessity," said Hunt, who is also a professor of sociology and African American Studies at UCLA. "Audiences of color are the bedrock of Hollywood and key to the bottom line as research shows once again that audiences prefer diverse casts."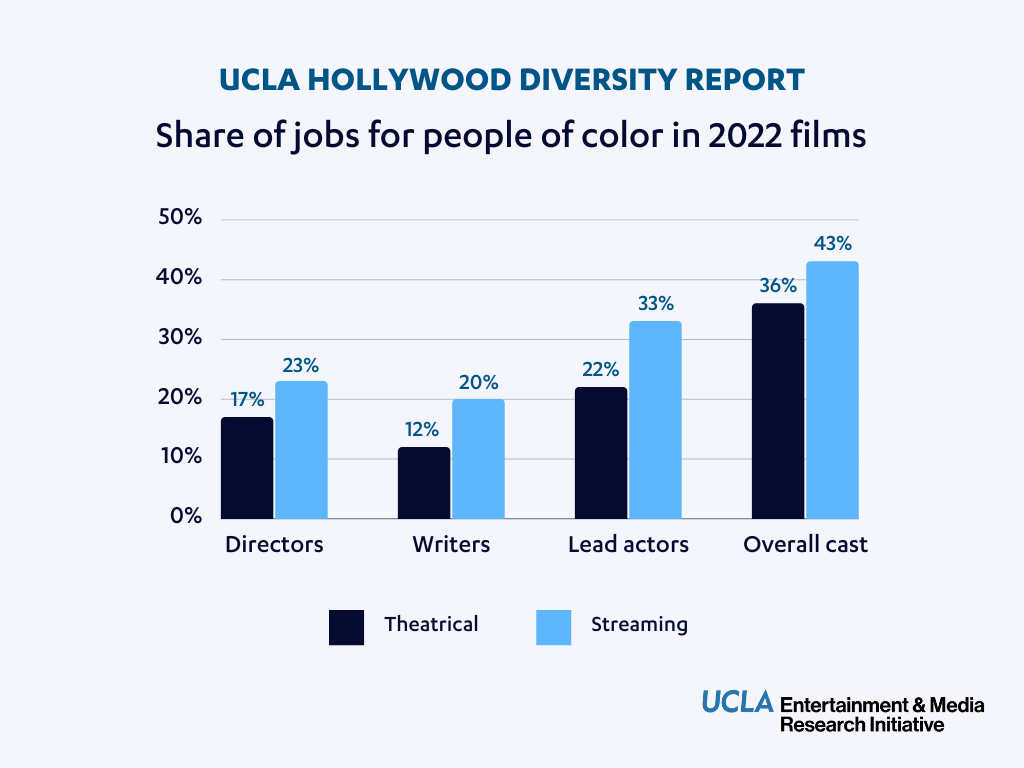 The report also illustrates the impact that the person chosen to helm a movie can have on the diversity of the cast. Films directed by white men tend to have less diverse casts than those directed by women and people of color. About half of the top theatrical releases and 38% of top streaming films directed by white men had casts that were less than 30% minority.
Yet white men continued to direct the overwhelming majority of Hollywood's biggest-budget projects. White men accounted for 73% of film directors on the big screen, and 60% of the films directed by white men had budgets of $30 million or more. In contrast, 56% of theatrical films directed by white women had budgets smaller than $20 million.
People of color had a much larger proportion of directing jobs in streaming (23%) than they did in theatrical releases (17%). But that also means they tended to have smaller budgets. Seventy-five percent of streamers directed by people of color had budgets below $20 million.
Even though box office increased domestically and globally from 2021 to 2022, after years of decline, ticket revenues are only on par with figures from two decades ago.
"The pandemic has normalized diversity on screen, not just in theaters but at home," said co-author Michael Tran, a UCLA doctoral candidate. "Audiences tuned in. If Hollywood reverses course on diversity in the theaters, they'll lose audiences to streaming and to international offerings."
To Ramón, the 2022 data offered a glimpse into audiences' future viewing habits. The two films that were streamed the most in 2022 — "Turning Red" and "Encanto" (which was released the prior year) — were both animated movies that told coming-of-age stories about young girls of color.
"These films were culturally specific yet universally relatable," she said. "With more than half of the current population under the age of 18 belonging to communities of color, these young people will grow up and demand films with protagonists who look like them and who live like them."
She added, "Diversity is the key to competing globally and staying relevant domestically. Now is the time to push forward and renew a commitment to invest in the communities of color that have long invested in Hollywood."
For the first time, the Hollywood Diversity Report examined the disability status of the actors. Even though roughly a quarter of adults in the U.S. have disabilities, actors with disabilities made up no more than 10% of lead acting roles and no more than 5% of all on-screen roles in theatrical and streaming films. The researchers identified disability status using actors' public statements — information that only recently became available on reliable third-party sources. The authors hope to expand research on this subject in future reports.
The report analyzed English-language theatrical releases for 2022 among the top 200 films, determined by global box office receipts, and the top 100 English-language films released originally on streaming service, determined by U.S. household ratings.
More data on diversity in 2022 films
Women were underrepresented in almost all film jobs. One exception was in lead acting roles, of which 49% went to women.
Men still controlled the narrative. Women directed only 15% of theatrical films and 25% of streaming films.
Women of color were severely underrepresented among writers. Only one woman of color penned one of the top 200 theatrical films in 2022.
Streaming films with diverse casts drove high social media engagement.
South Asians were minimally represented in top films.