On Friday, June 3, 2022 the Disability Studies minor graduates gathered for the first end-of-year reception in two years since the COVID pandemic at the Murphy Hall Shostak Terrace. Graduates from the classes of 2022 and 2021 were invited to celebrate their accomplishments with their family and friends. The event was also livestreamed on Zoom with captioning.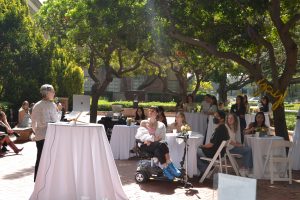 Chair of the Disability Studies minor, Professor Victoria Marks, provided opening remarks and Professor Caitlin Solone, Academic Administrator for Disability Studies, delivered a keynote address. Chair Marks was proud to share the many events and initiatives that the Disability Studies program implemented during the 2021-22 academic year, such as the Conversations series on the Future of Disability Studies and continuing collaborations with advocates, scholars, and artists.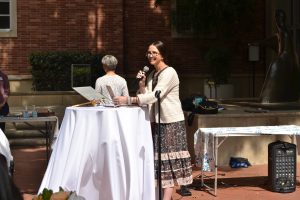 Professor Solone's speech highlighted students' resilience completing their degrees during the pandemic, enduring over a year of adjustments and hardships that disproportionately affected disabled students. The Disability Studies community also saw significant results from collective effort by students, staff, and administration: both the successful 16-day student sit-in, the longest in UCLA's history, as well as the proposed interdepartmental degree program in Disability Studies and B.A. in Disability Studies degree moving to the Academic Senate as of that morning. 
Scholarship winners and honorable mention recipients were invited to share a few words with the reception attendees. Graduates were enthusiastic to share their diverse and interdisciplinary future plans, guided by their scholarship in Disability Studies. Some will continue to advocate for disability justice through their art; others by pursuing law school and/or careers in medicine, teaching, and other industries. The Shapiro Family Scholarship recipients were Rowan O'Bryan and Isabella Poschl. Jessie Alpaugh Senior Prize winners were Natalee Decker and Quinn O'Connor. Samantha Chang and Nanami Murata were recognized as Honorable Mentions.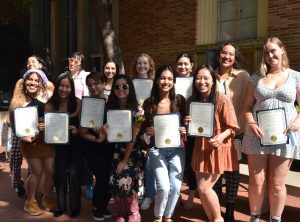 Congratulations to the graduates!