On October 29, 2021, students and staff from UCLA's Disability Studies minor had the opportunity to experience a virtual tour of the Tangled Art + Disability gallery, located in Toronto, Canada. Students also met with one of the gallery's artists and had the privilege of viewing their dance performance in the gallery. Tangled Art + Disability i​​s a registered charitable organization dedicated to enhancing opportunities for artists with disabilities by showcasing and promoting their work. Additionally, the organization provides accessible professional development and networking opportunities, all in the name of building an inclusive arts and culture sector.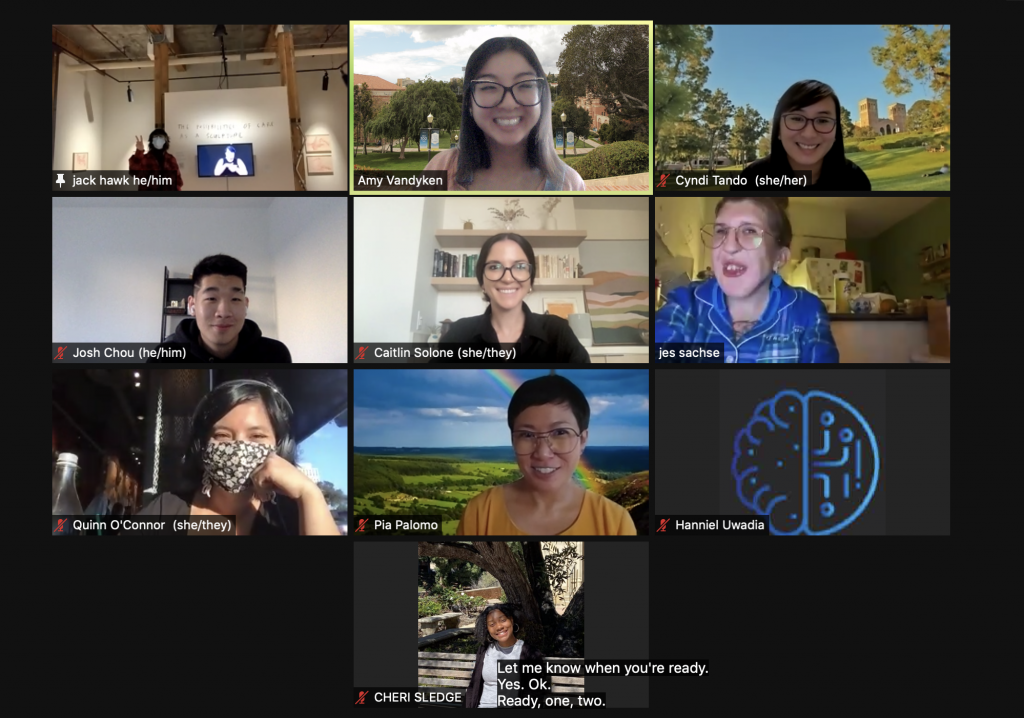 The tour was presented by Jack Hawk, the organization's Outreach Coordinator, along with jes sachse, one of the artists from the 2021-2022 Undeliverable exhibit. Undeliverable is a continuation of artist Carmen Papalia's curatorial practice, which envisions curation as a form of care. The exhibition brings together six artists from the Mad, Deaf and disability community, including jes sachse. The exhibit re-envisions the museum around the demands and desires of the disabled body/mind and features ambitious new work that challenges institutional structures and centers mutual accountability. jes sachse is an artist, writer and performer whose work addresses the negotiations of bodies moving in public/private space and the work of their care. 
The following are various artist pieces and resources from the Undeliverable exhibit: 
jes sachse's performance of their Undeliverable piece:
This performance serves as the visual representation of the negotiations of bodies moving in public/private space and the work of their care. (Audio Description Version also available).
Papalia orchestrated the sounds and audio of this video, which is a digital representation of a physical 3 room exhibition. His intent was to achieve an environmentant where tactility and aurality were emphasized over visuality. Kai Smith provided the drawings and animations in this video. The structures she depicted—the string game Cat's Cradle, parachute domes, trust exercises—are ones that rely on social cohesion and cooperation, on contingency and response, in order to exist.
Karuhanga's work addresses issues of cultural politics of identity and Black diasporic concerns through musical composition. In this composition, she explores individual and collective concerns of Black subjectivity.
​​presents the "Open Access Framework"—a framework that emphasizes open-ended and flexible, rather than protocol- and policy-foreclosed, approaches to different needs.
Also, here is an Instagram takeover that Aislinn Thomas did where you can learn more about her work on fragrance-freedom resources. The UCLA Center for Study of Women's Share the Air Initiative and scent-free policy parallels this effort.