Caitlin Solone and Julia Rose Karpicz from the UCLA Disability Studies Inclusion Labs team met during Fall 2021 with the founders of UCLA's Disabled Student Union (DSU) to discuss the group's origins, vision, how their activism has evolved, and the group's connections to disability studies. This conversation builds upon an emerging area for the Inclusion Labs, Archiving Disability, which explores the multiple ways students and scholars are compiling, uncovering, and recovering the histories of disabled people and communities over time.
In less than two years, the UCLA Disabled Student Union (DSU) has transformed the conversation around access on-campus and become a thriving community for disabled students and nondisabled allies. While the DSU's efforts and milestones are frequently featured in local news, the stories of the disabled student organizers behind the DSU are not always centered.
Records about the experiences of disabled students, staff, and scholars on-campus can be hard to find at UCLA. In many ways, this isolation is what the founders of the DSU—Quinn O'Connor, Kyle Radwanski-Ortega, and Natalee Decker—sought to challenge. As Quinn observed, "We all had the same kind of experience being the only disabled people that we knew on-campus. Kyle, Lily, and I had all gone years without knowing any other disabled people as first-year students at UCLA." In founding the DSU, Kyle saw the organizers trying to create "a space where people with disabilities could come together and learn about other people's experience and build a community."
"We were all like: 'We want to find each other. There's got to be more of us. Where are the rest of us?'" – Natalee Decker
"Creating an advocacy-focused organization honestly wasn't our first intention. [But] we've really grown as an organization because we've been loud about what we need the university to do … that's how a lot of people find us." – Quinn O'Connor
Membership and engagement have blossomed in recent months: the DSU Instagram account has drawn over 1,200 followers and the group's recent petition for remote instruction has gathered over 27,000 signatures. In October 2021, they hosted a protest on Royce Quad, where 175 attendees came together to advocate for increased accessibility on-campus. These critical milestones were the result of tremendous effort and unpaid labor by disabled organizers. As Natalee pointed out, "We have this lived experience, but it doesn't mean that we have slides ready. And we have tangible energy limitations as disabled students. It's a lot of work."
All three organizers envisioned a future where disabled students could organize around disability identity and culture, rather than access barriers:
"I would like us to not have to fight so hard for basic accommodations. So we can have fun, party, have more time for the cultural celebration and socializing time … I want new students to come and feel like they have a home." – Natalee Decker
We invite you to learn more about the stories behind the DSU's activism by reading the full conversation below.
When and how did you get started with the Disabled Student Union?
Quinn: I registered as a Disability Studies minor my freshman year and that led me to connect with Lily Shaw, who was also a Disability Studies minor. She had sent out an email to the Disability Studies listserv asking for appointment applications for the University Committee on Disability (UCOD). I thought that was interesting and I decided to apply for that. Lily let me in without even interviewing me, she trusted me enough to just do that. So, I started a two-year appointment in the beginning of my sophomore year.
Through that, Lily connected me to the Facilities Commission in the Student Government Office, where she had started a project concerning students with disabilities to increase accessibility on-campus. It was there that I befriended my second disabled friend on-campus, Kyle Radwanski-Ortega, who was a junior at the time. We actually have the same disability, which was super fun. We met around January of my sophomore year. Kyle had experienced a lot of bad things when it came to access and reached out to Lily, who was basically the only student representative who was publicly known to be an advocate for disability. So, that's how we all met.
And then the pandemic hit. I was in a disability studies class with another student, Natalee Decker. They were a transfer student in the first year, and they were wondering if there were any resources surrounding disability. I let them know about UCOD and the Facilities Commission and that Kyle, Lily, and I had been talking about possibly starting a Disabled Student Union because we needed to increase community. Lily, Kyle, and I had always talked about doing this, but Lily would graduate in 2020, and we needed to have three signatories at UCLA to create an organization. So Natalee really helped get that started; we finally had a third person who was disabled and wanted to fill that third signatory slot for the next few years.
We collaborated to register as an official student organization with UCLA. And then, through that, we had one of our first events in May where we hosted a screening of Crip Camp, in collaboration with the Disability Studies minor as well as the Facilities Commission. We had a talk back to the film with Jim LeBrecht and Nicole Newnham who were the two co-directors. That was a really fun time and that is also foreshadowing how we got to sustain a connection with Jim LeBrecht, who is a disabled advocate and alumni of UCSD.
Kyle: Ah it was in November; I saw an article in the Daily Bruin. Lily Shaw had written an article in the Daily Bruin about facilities trapping her in the building because they would shut the elevators down during her class time. Her article was a revelation to me because I have been having problems with Transportation, UCPD, CSO's, Residential Life and the CAE to name a few. I had always been told that I was the only one having issues. So I emailed her out of the blue telling her that I had a lot of the same problems too. We chatted for a bit and she was like "Come to bolter at 7pm. There are people I want you to meet." It felt very mysterious. I was like, "Who does she want me to meet?" I show up and I meet Quinn O'Connor and Sachi Cooper, who I would later find out were going to become the most important people during my time at UCLA. I found out that Lily was Commissioner for Facilities under USAC. And she basically offered me a job on the spot working to improve accessibility. I did that for a few months, and it was maybe January? Or early February? And Lily basically came up to me and said, "We are starting a Disability Students Union and you're going to be a cosigner," and she left and that was pretty much how it started.
Natalee: The spring quarter of my first year at UCLA, Quinn O'Connor and I had a class together and we were chatting on the class' CCLE forum where we were required to make a little introduction, we both were just expressing an interest in what kind of student organizing around disability was happening and wishing there was more community-based organizing. That was a course in which I had a bad experience with the teacher and some issues around accommodation in the class and some conflicts with the teacher and it was actually deeply satisfying, even though I had a bad experience, that Quinn and I connected in that class. Quinn had been working with UCOD, the Facilities Commission, and Kyle on some organizing that was connected to Lily Shaw. And I was just feeling like, obviously there are disabled students that I have been around, but I wasn't really accessing people that were apparently disabled in the way I am or people who are really speaking out and trying to support an identity-based community around disability. We were all like: 'We want to find each other. There's got to be more of us. Where are the rest of us? There was this person who was a powerchair user in my film class, I need to let them know that we want to start meeting. We were trying to imagine who else we could invite.
We started meeting on Zoom and trying to navigate the process of becoming an official organization. This was early in the pandemic, so we were on Zoom exhausted and stressed out. Just Zoom-ing from bed, being cozy, lounging, being sassy, and being gay. We are all queer and that was this really fun intersection, that we could all be sassy queers together and talk about our expeirence with disability. The early meetings were a lot of processing together. We thought, maybe we can highlight something in the news and discuss it and process it together. There was a sense of relief that there is someone we can talk to that gets it and understands the specifics and context of being an UCLA student. All we really wanted was to have some sense of community and to be able to work together.
When you started talking about wanting to create the Disabled Student Union, what was your vision for what that space would be?
Quinn: We all had the same kind of experience being the only disabled people that we knew on-campus. Kyle, Lily, and I had all gone years without knowing any other disabled people as first-year students at UCLA. A big part of us doing this was to have a space where disabled students can meet other disabled people and find community. Being a disabled student on any college campus can be very alienating. I grew up being the only disabled person in a lot of spaces. Finding community on-campus, and in general, is very important and it helps you form your identity. So, first and foremost, we thought it was important to have that community. I think that was really our main goal.
And then, on top of that, it's turned into such an advocacy thing at this point. Creating an advocacy-focused organization honestly wasn't our first intention. But, that's kind of what it has come to, and in doing so, I've learned that a lot of community comes from organizing and advocacy and activism. We've really grown as an organization because we've been loud about what we need the university to do. We've been a very vocal student organization when it comes to making those demands known and that's how a lot of people find us, is because of social media, because we are speaking out about things that are unjust.
That's been really interesting because no amount of Crip Camp screenings could have enabled us to find the community we have found at this point. And, in the year and a half that we've been in existence, we've grown considerably: we have over 1,000 followers on Instagram and then our GroupMe has over 100 members. Up until like three weeks ago, we kept the GroupMe very private in the sense that only people that come to our meetings or reach out to us directly can join it. But then we added it to our Instagram link tree and a lot of people have joined. Not all of them are disabled students, there are some allies that pop in.
Kyle: I wanted a space that was completely accessible to everyone. A space where disability was not a burden but an, "alternative experience of consciousness." Most importantly, I wanted a space where people with disabilities could come together and learn about other people's experience and build a community. I think it's important to remember that disability cuts through all other identities so, people with disabilities are really the most diverse group. UCLA could capitalize on this by building a space for us but they choose not to. It's just sad.
Natalee: Building community was an early goal, we were also interested in doing some programming, just having a space for cultural celebration, to process, and to have fun. Then after we became an official organization, it quickly became obvious that this was how we could more effectively organize and advocate. We pretty much immediately got thrown into having to advocate in the face of our utter disappointment with how the university administration had been acting. We had an ally in Sachi Cooper who was the Student Facilities Commissioner, and we started meeting with administration, and getting asked by different offices and departments for some perspective and input. Once we started to have regular meetings with administration, we realized that us being a university-recognized organization gave us a little more power and unity around our voice.
One of the early things we were asked to participate in was the hiring process for the CAE director. That process ended with us feeling very frustrated that our input was disregarded. As a group, we started acknowledging that we were starting to be asked to do a lot of free labor. We became a point of access for administrators and departments in the university, where they could reach out for perspective from disabled students. It was exciting that there was interest, but it also became exhausting being asked repeatedly for free labor, like giving presentations. We have this lived experience, but it doesn't mean that we have slides ready. And we have tangible energy limitations as disabled students. It's a lot of work and we were just trying to figure out how to navigate that.
I still don't know exactly how to negotiate that tension when you are a student-organizer, but I think that has become easier now that it isn't just the three of us. It's a bigger community and people can take on some of those asks because they have the enthusiasm and capacity to do that. It speaks to how we create disabled care webs and work together in a really lateral way. Sometimes I have things going on, but there is this larger community that can take on responsibilities and different people can rise up. It's been cool to see that wiggly model of evenly distributed power.
Can you share a little about the history of previous DSUs at UCLA?
Kyle: I don't know much about the previous DSU's there were two previous ones to my recollection. One in the mid-2000s and another in the late 90's and early 2000's. We actually found flyers from the 90's DSU which was really cool. We were able to speak with one of the leaders and she said she never experienced the amount of hostility we have from administration ha-ha.
Quinn: We never connected with any of the past DSU leaders before founding the DSU in 2020. I knew there were past iterations of the DSU. Several months ago I did some research, just searching the Daily Bruin for articles related to disability. That's where I found Dria Fearn, who I believe was President of the DSU back in like 2002-2003. I actually connected with her over Facebook and we chatted about her experience with the DSU. It seems like it was more culturally based, they didn't have a lot of battles with the administration back then. I think it's because there were a lot fewer disabled students on-campus back in the early 2000s and the office for students with disabilities wasn't overburdened like they are now, so there wasn't really a need to advocate for better or more services or rights.
I think there were also people around in 2007, I don't necessarily know if it was a continuous iteration of the DSU, I'd like to assume it was. And then after that, it kind of petered out, the DSU didn't really exist for a while until 2013 or 2014. That most recent iteration was led by Carolanne Link, who is currently on staff at UCLA and getting her MBA from Anderson. She was an undergraduate senior back in 2013-2014, she made a club that was focused on finding community and having fun. There wasn't really much advocacy work there either, and that was for a year.
Since then, there have been a few notable students who were involved in disability advocacy on-campus, like Miso Kwak (Class of 2017) and Lily Shaw (Class of 2020), who were both Disability Studies minors.
Natalee: We had a nice Zoom conversation with a previous DSU member, from 2003 maybe? It was very interesting to me to hear that they had a much more positive experience with the disability services office. There was apparently a disabled, chair user in that office, it seemed like there was more representation that was having positive impacts around the experience for disabled students. I found that really interesting considering our movement towards neoliberal austerity and how that manifests on a university level. I would have intuitively thought, 'Oh, it must have been way worse,' it's interesting how it's not always a neat, linear progression. Things like staffing changes and shifts in cultural attitudes can have these huge repercussions.
I think part of the difference is the result of there being more students in the system. That is, itself, a form of progress: there's more cultural acceptance around accessing a diagnosis, claiming a diagnosis and requesting accommodations. It just really demonstrates that while there's been less stigma culturally around identifying with a disability, there haven't been more resources provided by the institution in tandem. Disability services is horribly underfunded and understaffed. That is the biggest issue and the source of a lot of problems. I think there are a lot more students that move through that office than there were in 2003.
I hope that we can be more long-lasting. It just seems so important as a way to orient in a new community to have that access point. It was really nice to get to participate in the student organization fair. I loved that we got to meet new students, and they were like, 'Oh, I really wanted to find something like this, I didn't know there was anything like this that existed.'
What role does disability studies play in the work and organizing that you all do? 
Natalee: I feel like we are collaborators. We've had an immense amount of support and done some collaboration with programming. They have been a more informal perspective while we work through experiences of self-advocating as disabled students. There's immense value in having an administrative and faculty perspective we can trust, where there's an understanding of disabled experiences.
I think for all of us, working through what our experience means and how to organize around disability, I've learned a lot from the disability studies courses I've taken. Getting exposed to certain readings, to DisCrit or disability justice, in a course and how that can inform my perspective on organizing and what we're centering in the organization. It's also nice that there is a lot of academic crossover between the students who are in DSU and the students who are DS minors or who are involved in ASL. A lot of us will be in classes together and it's nice when you get to take a class with a friend. 
Quinn: The Disability Reading List that we added to the Instagram link tree was the first thing we did as an organization. Natalee was new to the minor at that point, and they brought up not having a lot of resources when it comes to disability studies, and said 'I'd love if you could share something like that with me, and I also think it would be really cool to have this as a public resource because disability studies as a field is very new.' The main culture at UCLA doesn't view disability through that lens of disability justice and disability studies, so it was really important for us to let that reading list be known. So, I collected some stuff from my old disability studies classes and Natalee also found some things and we created it. I think that disability studies, especially when disabled people learn about disability studies, really reframes what you have been taught as a disabled person by society, by your doctors. DSU has played a big part in formations of disability identity for a lot of members, and I think disability studies serves that process. It's important to have disability studies very intertwined. It really does help you unlearn a lot of internalized ableism. 
Speaking on a more personal-level, it's been a lot of work for me to accept my disabled body. I remember when I was younger and seeing myself walking in the reflection of car windows and I wouldn't believe that was me, because I didn't envision myself as having a limp and being disabled, and having my right arm look the way it did in the mirror. I used to have leg, and arm braces, but I was too self-conscious to wear them past the age of twelve. And my parents would, as a young kid, put me in all these sports and activities to build up my muscle tone and kind of act as abled-bodied as possible. My whole family is very athletic. So, I've been working a lot with myself in the past three years on really learning a lot of those things about myself. Like when I took pictures for that CalMatters article, there was a moment as I was getting photographed walking upstairs where I was like 'Oh geez, I am going to hate this when I see these pictures.' I obviously still have a lot of work to do, but disability studies helps me accept myself as a disabled person. 
It does the same for a lot of DSU members that have said they never really regarded themselves as disabled, as an identity, until they reached UCLA and realized the barriers that were present. That plays into the social model of disability: having a good lens on how the world is built and how accessible it is can really inform what you fight for. That's why it's important for disability studies to be intertwined in our advocacy work because you have to know, wholeheartedly, that what you're doing is right. When it comes to a lot of the gaslighting I've experienced, you have to know that, in the end, it's not your fault as a disabled person. It's the institution and the systems in place that are disabling you.
Kyle: I think disability studies has an important partnership with DSU. Disability studies is perhaps the first time students with disabilities are exposed to their lived experience in an academic context. Their experiences transition from ethereal to concrete concepts. Which leads to the empowerment of students with disabilities. It's interesting because scholars have stated that equitable access to education is one of the top three issues facing people with disabilities today. Disability studies is literally sitting on a goldmine of unexplored research. So it's a very cyclical relationship that the two organizations have.
What is your vision for disabled students' experience at UCLA?
Natalee: I would like us to not have to fight so hard for basic accommodations. So we can have fun, party, have more time for the cultural celebration and socializing time because there's less urgency and work to do around these immediate issues of access, people experiencing discrimination and traumatic experiences with faculty, and being exhausted from meetings with administration. I want new students to come and feel like they have a home. A place where disabled students, including those who are questioning their identity, who feel like they might have a disability, can find safety, friendship, and support. A space where they can fully be themselves and feel comfortable opening up.
Kyle: I wish administration would stop being so adversarial. I wish the CAE would support students. I wish the CAE would stand up for students when the academic senate takes away what rightfully belongs to the students. It's funny because you see in PR materials from the university and Gene Block how UCLA is so "prestigious." This word used to mean things like "trickery, illusion, deceit, conjuring." I think these words more accurately describe people with disabilities' experiences. It's something I wish the university would shy away from but I don't see that happening any time soon.
Quinn: As a freshman and queer person walking on campus for the first time, walking by LGBT Center that is so central on campus, right on BruinWalk with the rainbow flag flying out front, I knew that if I needed that, I would be supported. Having that visual representation was important for me as a queer person. That's also why a disability cultural center is so important to me. That would be the one thing I would really want: for disabled students to come onto campus and know that they are supported. Whether or not they wanted to be a social justice activist, I hope for a campus where it's not necessary for every disabled person to fight for their services. Having more inclusive design in academic classes, having faculty and professors who understand disability. I want to have a campus where events are accessible no matter what, which is something that I've also tried to work on. I would love there to be more disability-specific programming that is not just done by the Disability Studies minor. 
I know that as a queer person on campus, I don't have to fight for my rights in the same way. I would like that to be the same for disabled people. I don't want our conversations in the GroupMe to be like 'okay, this happened to me, and I think it's illegal.' I don't want that to be the case. I want disabled students on campus to not have to feel like you have to battle with your campus over your human rights.
Can you share a little about the DSU logo and the story behind its design?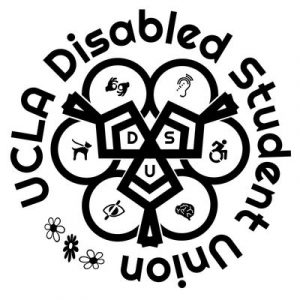 Natalee: I still feel that the logo is unfinished. I had so much insecurity and was always asking for feedback from the group on the smaller icons representing different disabilities within the logo. It is just really impossible to capture with symbols the full scope of disability. I had insecurity around which ones do I pick. It feels unfinished in that sense, but there's something that feels normal about that too, that idea that how we understand disability is always changing and shifting, the semiotics and vocabulary is always changing. But we are being met with this very sterile, stiff, stick figure, wheelchair icon that is the umbrella symbol for a very diverse set of experiences. That relates to my own art practice, where I am trying to challenge sterility and unidimensionality around disability. So, I was just trying to take that symbol and transform it into something else, something more dynamic; make it a weird flower, almost like a Girl Scouts badge, throw some cute flowers in there, because it should be fun too. I think that we deserve more playfulness and sexiness and cuteness around our identities.
Is there anything that we haven't talked about that you would like to add?
Natalee: When Quinn connected us with the leader from a previous iteration of the DSU, we were a little concerned because it faded out of existence due to the lack of interest and people willing to be signatories. We were worried, 'What if when we all graduate, there's not anybody who wants to put in the grueling labor to try to create momentum around organizing, getting together graphics, maintaining our Instagram, and organizing meetings.' But there's all these people who are similar to us; who are really hungry for community, who feel really alone navigating access and disability on campus, who have had unique hardships in interactions with students or faculty or through the accommodations process. I'm excited that we have grown in organizing power and numbers and as a community. That is very energizing for me. I'm able to step back a little bit and people are carrying it on. 
Quinn: Lily Shaw passed away shortly after graduating from UCLA. I wish she could see how much her legacy has impacted students. Jim LeBrecht emailed us after Lily passed and donated to the fund for the disability cultural center and told us that he saw a lot of Judy Heumann in Lily, and Lily really looked up to Judy. When I took on the DSU, in the back of my mind, I always thought that Lily would be a text away to ask about what I should do, like going into super scary administration meetings. I don't have anybody to really turn to when it comes to that, with somebody who's been through that experience specifically. Selfishly, I would want her to still be here to coach me through things. 
I'd never really intended to get this ingrained into everything, but Lily's passing really set something within me where I felt like I needed to finish what she started. I could never have imagined this moment, where there is so much solidarity with this petition and we have a thousand followers on Instagram, graduate students involved on-campus, Jim LeBrecht actively involved in our activism. I don't think Lily ever imagined it either. When I see first-years joining DSU, or I see the people that are probably going to take it over, the happiness that they feel because they found a community. I wish that, as a first-year, I could have walked around the activities fair and seen a table with other disabled students. I get emotional because I think it was something Lily was robbed of, a little bit, when she was here and the disabled community at UCLA didn't exist. And now it does, and it's really exciting to be able to be that person for other students. At moments like these, I really wish Lily was here to see it. I really wish she could have seen what was happening and how much her legacy has impacted students.